Upright Memorials
Other names :
Upright memorials, monuments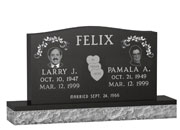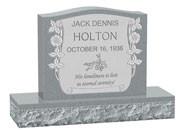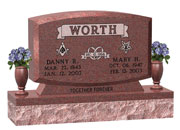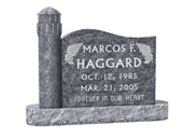 Upright monuments provide the most comprehensive memorial design choice. Upright monuments are referred to a set of a minimum 2 pieces- The tall and standing upright monument is called a Die and a low lying flat granite is called a base. Usually an upright monument is set to stand upright on a concrete foundation. Common type of upright monument are serpentine top shape with all side polished sides. Unique memorials like heart shape can be created by choosing special cut designs.
Upright monuments provide a space for lettering the names and dates and the front and mounting memorial plaques like bronze veteran markers on the back. Most cemeteries regulate the size, finish, color and sometimes design engraved on the monument.
Usually single monuments are 20 to 36 inches long and 20 to 48 inches tall. Double monuments are 24 to 60 inches long and 20 to 36 inches tall. 8" and 6" thick monuments are recommended, however 4" thick can be used for smaller sizes. 10" and 12" thick monuments are also used in some areas.
Upright monuments are available in all the 4 standard colors. If you prefer other colors, call us and we'll get you more details. Click our group company link for more elaborate details.
The following sizes are available in stock at any given time. Custom size markers can be made to order.
Marker
Size
Color
Gray
Flash Black
Black, Blue, Diso
Red, Pink
Upright Marker
Single Die / Base
Xtra Large
28x8x42/
40x14x8
$2553
$2891
$3398
$4218
Large
30x6x20/
42x12x6
$1335
$1514
$1782
$2194
Standard (recommended)
24x6x24/
36x12x6
$1249
$1412
$1657
$2038
Economy
24x6x20/
36x12x6
$1095
$1243
$1465
$1802
Small
16x4x18/
24x10x4
$632
$700
$803
$960
Double Die / Base
Xtra Large

48x8x28/
60x14x8

$3072
$3497
$4135
$5141
Large
42x6x24/
54x12x6
$2060
$2328
$2732
$3366
Standard (recommended)
36x8x24/
48x14x8
$2095
$2394
$2841
$3534
Economy
36x6x20/
48x12x6
$1575
$1784
$2099
$2585
Small
30x4x18/
36x10x4
$1014
$1136
$1319
$1603
Accessories
Pictures- The most preferred way to etch pictures on an upright is by etching on black or flash black granite. Since the picture is etched into the surface it is permanent. Pictures can also be done using a porcelain cameo.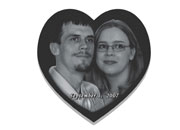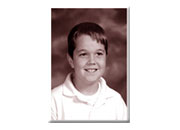 Vases- Vases are a very important accessory for a memorial. Flowers can be secured in a vase instead of leaving them on the ground. Most cemeteries allow vases for Upright Memorials. Vases are made of Granite, Bronze, Stainless steel or aluminum. Granite vases that match the monument material are recommended.